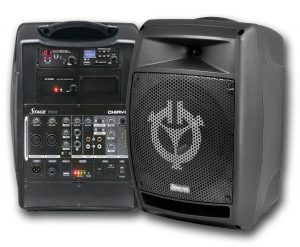 There is nothing worse than preparing a beautiful wedding ceremony only to have guests unable to hear what is being said! Open outdoor spaces, beaches and places with a lot of background noise can quickly drown out speech and music. If you have a large number of guests, and/or are planning to have your ceremony outdoors I would always recommend the use of a sound system for amplification.
We have a sound system for hire which is perfectly set up for wedding ceremonies. It has the following features:
Portable and battery powered so that it can be used in any location
A wireless headset microphone for the celebrant (which allows for hands free speech)
A wireless handheld microphone for readings, speaking by the bride and groom, announcements etc
The hire includes the preparation of your playlist ready for playing on the sound system
Someone to set up and operate the sound equipment so you don't need to worry about finding someone to do this for you
Before and after wedding playlists
To hire the sound system costs $150 and while it is an extra cost, it is a worthwhile investment for making sure the ceremony is heard and that it all runs smoothly.  We have deliberately kept the cost of this low as we don't want the cost to be a barrier to couples having the best wedding experience.
FAQ
Can I use the equipment after the ceremony?
Because the sound equipment is specifically configured for ceremonies, the hire period only covers the duration of the ceremony.  This also helps us ensure the best reliability and condition of the equipment for your ceremony and others.  The hire covers the period between 20 minutes before and up to 20 minutes after the ceremony.   We will usually pack down the equipment once the photographer gets everyone together for the group photo.
Can we plug other equipment into the sound system?
We sometimes get asked if musicians or videographers can plug their instruments or equipment into the sound system for the ceremony.  The short answer is yes!  There are two additional instrument/microphone plugs available for musical instruments and/or microphones.  There is also a line out plug that can be used by videographers to record sound.
Can we have our own before/after wedding playlists?
Yes of course!  We can either use your device to play the music or you can prepare a public Google Play playlist that we will download prior to the ceremony.
Can we use our own sound system?
You are welcome to use your own sound system if you already have some available through your band or have your own equipment. However, in my experience, issues often arise because either the equipment is not suitable, incorrectly set up or those operating it are not familiar with it.  Also, one of the guests usually gets the honour of queuing  the music which leaves them in nervous sweats rather than being able to sit back and enjoy the ceremony!  I am happy to work with what ever sound system you have, but you may find that hiring a sound system that is tried and tested may be worth the extra pressure and potential issues it will save.